---
News Update & Activities
Khmer Classes for Public
Cambodian Students of Aloha at UH (CSAloha)


1. Course Title: Basic Khmer Language Course for Beginners


2. Credits: No Credit / Free of Charge


3. Objectives: Upon completing the course, students will be able to:
- Recite Khmer consonants and vowels properly
- Differentiate between voiced and unvoiced consonants
- Distinguish the different sounds of vowels when used with certain consonant types
- Construct simple words by means of consonant-vowel combination
- Create simple sentences by putting words together


4. Course Description: This Khmer Language Course is designed to provide students with the foundation of Khmer language, including the consonants, vowels and the basic construction of simple words by the combination of consonants and vowels. They will distinguish the differences between voiced and unvoiced consonants and the varied sounds (phonetics) of vowels when used with the two different types of consonants. From the basic understanding of the consonants and vowels, they will learn to construct simple sentences by putting words together.


5. Course Outline
Session Date Topics Hours Reading Materials and Teachers
1 January 24 Introduction & Course Overview (Orientation) 01 h Text book & Hand out All Teachers Attend
2 January 31 Chapter1: Lesson 1 & 2
-Simple Conversation & Vocabulary
Greeting and Color Words
-Read, Write Consonants & Vowels. 01 h Pages: 2-13
Sophan Seng
3 February 7 Chapter1: Lesson 3 & 4
-Simple Conversation & Vocabulary
Size & Location Words
-Read, Write Consonants & Vowels. 01 h Pages: 14-25
Sophan Seng
4 February 14 Chapter1: Lesson 5 & 6
-Simple Conversation & Vocabulary
Sequencing Words
-Read, Write Consonants & Vowels. 01 h Pages: 26-37
Sophan Seng
5 February 21 Chapter2: Lesson 1 & 2
-Simple Conversation & Vocabulary
Self Introduction
-Read, Write Consonants & Vowels. 01 h Pages: 38-49
Sreang Heak
6 February 28 Chapter2: Lesson 3 & 4
-Simple Conversation & Vocabulary
Schooling & Habitation
-Read, Write Consonants & Vowels. 01 h Pages: 50-61
Sreang Heak
7 March 7 Progress Check 1 01 h Malin Chin
8 March 14 Chapter2: Lesson 5 & 6
-Simple Conversation & Vocabulary
Father & Mother
-Read, Write Consonants & Vowels. 01 h Pages: 62-73
Utey Uch
9 March 21 Chapter3: Lesson 1 & 2
-Simple Conversation & Vocabulary
Introducing Family Members
-Read, Write Consonants & Vowels. 01 h Pages: 74-85
Utey Uch
10 March 28 Chapter3: Lesson 3 & 4
-Simple Conversation & Vocabulary
Occupation & 7 days of the week
-Read, Write Consonants & Vowels. 01 h Pages: 86-97
Sovichetra Chan
11 April 4 Chapter3: Lesson 5 & 6
-Simple Conversation & Vocabulary
Human body & Family Occupation
-Read, Write Consonants & Vowels. 01 h Pages: 98-109
Sovichetra Chan
12 April 11 Chapter4: Lesson 1 & 2
-Simple Conversation & Vocabulary
Schooling & Numbers
-Read, Write Consonants & Vowels. 01 h Pages: 110-121
Veasna Kum
13 April 18 Progress Check 2 01 h Malin Chin
14 April 25 Chapter4: Lesson 3 & 4
-Simple Conversation & Vocabulary
Class activities & Classmates
-Read, Write Consonants & Vowels. 01 h Pages: 122-133
Veasna Kum
15 May 2 Chapter4: Lesson 5 & 6
-Simple Conversation & Vocabulary
School Regulations & Disciplines
-Read, Write Consonants & Vowels. 01 h Pages: 134-145
Kongkea Chhoeun
16 May 9 Chapter5: Lesson 1 & 2
-Simple Conversation & Vocabulary
Village activities & the 12 months
-Read, Write Consonants & Vowels. 01 h Pages: 146-157
Kongkea Chhoeun
17 May 16 Chapter5: Lesson 3 & 4
-Simple Conversation & Vocabulary
Tourist places & Food
-Read, Write Consonants & Vowels. 01 h Pages: 158-169
Sovatha Ann
18 May 23 Chapter5: Lesson 5 & 6
-Simple Conversation & Vocabulary
Clothing, Occupation, Food, Places
-Read, Write Consonants & Vowels. 01 h Pages: 170-181
Sovatha Ann
19 May 30 Final Exam & Class Conclusion Class Commencement 01 h Malin Chin All Teachers Attend
Note: Each class runs one hour every Saturday from 4 - 5 PM at UH Campus at room: 230B


6. Teaching Methods: Class activities will consists of
- Presentational lectures, dictation, recitation/drill
- Student participation through in-class activities and assignment
- Class is designed to be interactive and participatory


7. Assessment Methods: Class will be evaluated through
- Class participation- including attendance 10%
- Progress check 1 & 2 40%
- Final Exam 50%


8. Text book & References
-Khmer Language, Grade 1, 1996.
-Other Supplementary Materials.


9. Instructors: Cambodian Students of Aloha at UH (CSAloha)
Click link to see the complete word format of this syllabus
Commencement Exercise: CSAloha and its teamwork have cordially participated the Higher Education Achievement of Dr. Bunnarith Meng on 20 December 2008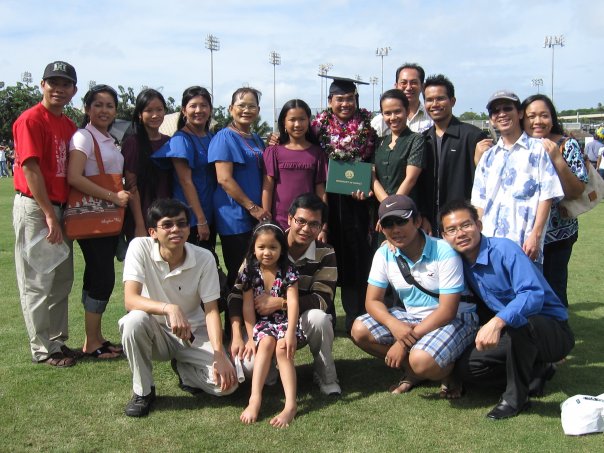 Minute of Meeting for December 2008

Date: Tuesday, Dec. 2th, 2008 at 6:30 - 7:30PM
Place: Hale Manoa, Lounge of 12th Floor
Participants: Sophan, Malin

Note: - this is a Tuesday of the first week of monthly meeting
- Khmer class is our key cultural outreaching

Agenda Motions:
I. Khmer Language Classes
- Every Saturday, once a week
- Time: 4:30 - 5:30PM (full 1 hour)
- Place: UH Manao Campus Center (room will be reserved - Sophan)
- Brief Class Schedule:
o January 24th, 31st
" January 24th, 2008 = first class commencement, gathering everyone together
o February 7th, 14th, 21st, 28th,
o March 7th, 14th, 21st, 28th,
o April 4th, 11th, 18th, 25th,
o May 2nd, 9th, 16th, 23rd, 30th,
" May 30th, 2008 = class closing party
- Syllabus (lessons will be reserved - Malin or others if he/she can help)
- Brochure ads (will be created - Sophan or other if he/she can help)
- Application form (will be created - Malin or other if he/she can help)
- Instructor volunteering
II. Action Plan 2009
1. January : opening Khmer classes
2. February : Concert on the Lawn
3. March : EWC Olympic
4. April: Khmer New Year Celebration, East West Fest
5. May : Party to Celebrate Cambodian Students Accomplishment
6. June:
7. July:
8. August: welcoming party for our new coming Cambodian students
Regular activities:
9. Charity activities to support Cambodian poor students in Rural Areas
10. Sport programs for health such as daily jogging, hiking, swimming or other games
11. Connection activities with all other Khmer associations

Meeting adjourn or next meeting: Tuesday, January 13, 2009
Note: after we applied for Khmer classes funding, we got support $225 from Student Activity and Program Fee Board (SAPFB) for snacks in each session. See attached file for more info

Khmer Cultural Outreaching: Khmer Cuisine at the International Potluck organized by EWCPA
on Saturday, 15 November 2008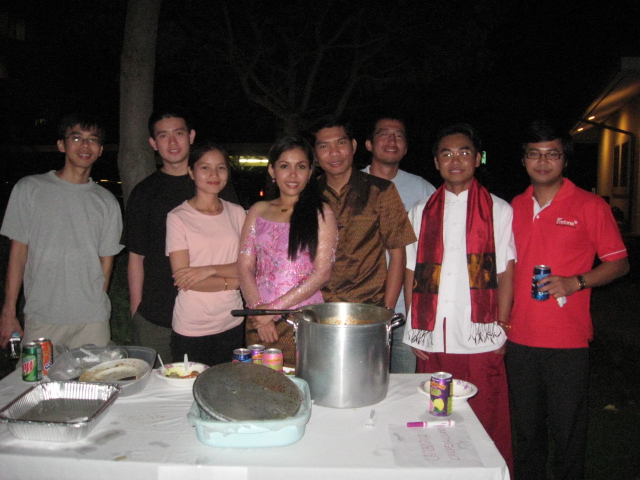 Minutes of Meeting
Date: November 4, 2008
Time: 6:30-7:30PM
Place: TV room in 9th floor
Participants:
Sophan Seng
Heak Sreang
Maline Chin
Vannarith Chheang
Sovichetra Chan
Kongkea Chhoeurn
Leakhena Nam
Bo

Old Businesses:
- We will follow up our CSAloha's application with Alfred. We need the confirmation from Alfred, and Vannarin should meet or talk with Alfred in order to find out our association status with RIO.
- Waiting the respond from RIO about our application for funding to support Khmer class. Though we don't get fund, we tend to open Khmer class as usual in this Spring 2009.

New Businesses:
- We are going to arrange Khmer food to participate International Potluck organized by EWCPA in Friday, November 15, 2008 at 5pm. Now, our country (Cambodia) has already registered and approved.
o EWCPA reserves some money for each taple/country
o We decided to make Nom Banhchok (Khmer Noodle) with Somlor Kiri (Curry Soup)
o Our desert will be Saray
o Leakhena & Bo will be the main chef and everyone will help with this to achieve our food participation.
o Dress Khmer customs during the Potluck.
o Everyone is welcomed to join, taste and enjoy our Khmer cuisine among those international cuisines.

Miscellaneous
- The meeting ended with food sharing from our participants. We will have food together every time after our monthly meeting.

Next Meeting
- Tuesday, December 2, 2008 at 6:30-7:30PM, room will be later confirmed in Hale Manoa Building.

Thank you very much!
Minute Taker
Miriam T Stark

<miriams@hawaii.edu>

reply-to

miriams@hawaii.edu

to

csaloha@googlegroups.com

date
Nov 1, 2007 10:19 PM
subject
[Cambodia Students of Aloha at UH] Cambodia Lecture by Professor Ang Choulean next week: please circulate this message as you see fit
We are pleased to host preeminent Cambodian anthropologist Dr. Ang Choulean at our UHM campus next week for the following lecture:

Breaking-Off and Continuity: Ancient and Present-Day Cambodia
November 8 @ 12:00 - 1:15 pm
Spalding Hall, Room 155

Dr. Ang Choulean
Professor of Historical Anthropology, Royal University of Fine Arts, Phnom Penh
Professor of Anthropology, Department of Sociology, Royal University of Phnom Penh
Research Associate, Ecole Francaise D'Extreme Orient

Please join us.

Sponsored by the UHM Anthropology program, the School of Pacific and Asian Studies, the Historic Preservation Program and the UHM Center for Southeast Asian Studies.

~~~~~~~~~~~~~~~~~~~~~~~~~~~~~~~~~~~~~~~~~~~~~~~~~~~~~~~~
Professor Ang's work in historic preservation and his concomitant research has made critical contributions to Cambodia's heritage and scholarship. Some of Professor Ang's accomplishments include:

-helped establish APSARA authority and served as Director General of Culture and the Angkor Monuments
-curator, "Sculpture of Angkor and Ancient Cambodia: Millennium of Glory" exhibit (Paris, Washington D.C., Tokyo, Osaka, 1997-1998)
-started the Khmer journal Udaya (produced by APSARA Authority) in 2000 with Ashley Thompson

Some of Professor Ang's publications include:

-Ang Choulean. 2006. The Linga in all Its Aspects. Orientations Vol. 37, Number 8.
-Ang Choulean and Ashley Thompson. 2004. Calling the Souls/Brah Ling. Reyum Publications, Phnom Penh.
-Ang Choulean. 2002. People and Earth. Art Media Resources.
-Ang Choulean, Eric Prenowitz, and Ashley Thompson. 1998 Angkor: A Manual for the Past, Present, and Future. UNESCO with United Nations Development Program [and] Swedish International Development Agency.
-Ang Choulean. 1997. Nandin and His Avatars. In Sculpture of Angkor and Ancient Cambodia: Millennium of Glory, edited by H. I. Jessup and T. Zephir, pp. 62-70. National Gallery of Art, Washington D.C.
-Ang, Choulean 1995. Le sol et l'ancêtre. L'amorphe et l'anthromorphe. Journal Asiatique 283(1):213-238.
-Ang, Choulean. 1993. Recherche récentes sur le culte de mégalithes et des grottes au Cambodge. Journal Asiatique 281(1-2):185-210.
-Ang Choulean, 1990. 'La Communauté Rurale Khmère du Point du Vue du Sacré' [The Rural Khmer Community from the Sacred Point of View], Journal Asiatique 278(1–2): 135–154.
-Ang Choulean. 1988. The Place of Animism within Popular Buddhism in Cambodia the Example of the Monastery. Asian Folklore Studies, Vol.47, No. 1, pp. 35-41
-Ang Choulean. 1982. Grossesse et Accouchement au Cambodia: Aspects Rituels. ASEMI, 13, No. 1-4, 1982.
-Ang Choulean. 1980. Les Apparitions de Fantômes au Cambodge. ASEMI [Paris], 11, 1980, 437-43.
Lentern Water Festival of South East Asian Countries
Dear All:
I am sending my notes out to those who attended the meeting. I am copying PGC staff who will be responsible for certain tasks or need to be informed. The notes follow the meeting agenda: This year the participating communities have increased with each taking responsibility for certain aspects of the event. The Interfaith Council is interested and will participate in some way. The focus of the year will be Peace, Renewal and Prosperity. There will be a religious aspect included especially following the events of the violence in Burma and the candle light ceremony at Magic Island. The sunset this year will be 5:51 pm. So the program will evolve around this time line. There will be tents assembled in the morning to make sure that the place is secured. There will be drinks and snacks for sale. The program is start at 3:30 pm. There will be two Thai dances. One is the Lotus dance and another is the candle dance. There will be four Burmese dances. The Interfaith items will start at 4:00 pm. This will include choir and prayers. The monks are to start the chant at 4:30 pm followed by the water pouring ceremony. The monks will chant for 20 minutes. Then the Lanterns will be available for floating or hanging or placing in the sand. Ichaya has designed a lantern that would be placed on a string and the lanterns could be pulled back easily. There will be people placed in the water to bring back the floating lanterns. Ichaya has a volunteer. PGC will be contacting friends in the canoe clubs nearby to see if they are available to help. PGC is also securing tents for the event. The communities and their responsibilities are: Cambodians: Publicity (PGC can help through our Boardmember) Vietnamese: Participating in the Interfaith through chant or prayer as well as hanging lanterns. Burmese: Will make or bring hanging lanterns. Post meeting- the Burmese discussed donating noodles but Parks and Recreation advised against giving away food because it would attract those not taking part in the ceremonies. Thais: Will bring the floating lanterns and the Thai Ice Cofee and Tea for sale. Maybe snacks as well. Paul (Dang) will be responsible for the sound systemd and the flat form for the monks to sit on while chanting. The performers will dance on the grass. PGC will write a letter to the monks, inviting them to come to the ceremony and chant. There would be a donation made to the monks. Afterthought. When the sun goes down, it will show off the lanterns much more and it would be nice if the monks had another short chant or a choir sing over the floating lanterns. Please add what I may have forgotten. This is from my staff:

Tin Myaing Thein

Visit our organizational website at
www.pacificgateway.org
UH and EWC researchers will discuss academic projects in Cambodian studies.
Where: John A. Burns Hall 4005, East-West Center
When: 11-09-2007
What:

Admission free.


Sunday, November 10, 2007, 10:00 a.m.-12:00 p.m., 2:00-4:00 p.m.
Conference: "New Initiatives in Southeast Asia and Cambodia"
Place: UH Korean Studies Center, 1881 East-West Road
Academic papers by UH and other experts on Cambodia and cultural conservation of interest to the general public.


Sunday, November 11, 2007, 2:00-4:00 p.m.
Public Lectures: "Living Cambodia"
Brief presentations on conservation efforts in Cambodia with emphasis on the "living culture" of the country.

The two preceding events are a collaboration of the UH Historic Preservation Program and the EWC. For further information: Teri Skillman, 956-5531 or Skillman@hawaii.edu

Sunday, January 13, 2008, 2:00-3:00 p.m.
Dance performance-demonstration
Featuring Thavro Phim, noted Cambodian performer and EWC alumnus.




Spectacular Angkor Wat in North Central Cambodia is one of the great monuments of the world. This exhibition will focus on the living aspects and continuity of culture found in Angkor and its environs today. For many Cambodians the monuments of Angkor are the continuous link to ancient Khmer culture despite the horrible devastation during the "killing fields" period, 1975-79.The exhibition will feature several 13th and 14th century sculptures and will also depict how these are sometimes transformed into modern Buddhist worship. Motifs found in traditional textiles, puppets, and masks that are found within the 13th century friezes will be displayed. Images by National Geographic photographer Paul Chesley will depict both the monuments and the contemporary Cambodian people.

EWC contact: Michael Schuster, Curator, EWC Gallery (808) 944-7543
email: schustem@EastWestCenter.org

These East-West Center Arts Programs are made possible by generous support from the Hawai`i Pacific Rim Society, Friends of Hawai`i Charities, the Cooke Foundation, Jackie Chan Foundation USA, and generous contributors to the EWC Foundation, including members of the EWC Arts `Ohana.

Gallery hours are Monday-Friday 8 a.m.-5 p.m; Sunday noon-4 p.m. Closed Saturdays and holidays. Admission is free. Visitor parking on the adjacent UH campus is $3 and is usually easily available on the upper campus after 4 p.m. weekdays; Sunday parking is normally free and ample.

Primary Contact Info:
Name: Michael Schuster
Email: schustem@EastWestCenter.org
Phone: 808-944-7543
----------------------------------------
Dear all,

On behalf of the CSAloha, I would like to extend my sincere appreciation to Savouth Chea, President of Cambodian Community of Hawaii (CCH), and Christine Su, secretary and public relations officer for CCH, for their continued assistance in making our class a reality and today a realized success and particularly for organizing the certificate presentation ceremony this wonderful Saturday.

My deepest thanks also go to the Cambodian families (both those who were present and who could not make it) for making delicious Cambodian food to host the ceremony today. These generous people are Sinang and family, Pisey and family, Savy (Savouth's brother and his wife Phalla, Sovann (Savouth's sister), just to name a few.

I would also like to thank Uncle Keat (Vice-president of CCH), Rob, Mary, and other guests who were present at the ceremony today.

My great recognition also goes to our hard-working students and teachers who have come along way to reach this wonderful day. You have been committed as great students and I have been happy to work with you all.

Without all of you, great people, we won't have this day and for that I thank you sincerely.

Aloha,

Sovicheth Boun, CSAlha Vice-President

P.S. Our Khmer class will be recommenced in this coming Fall 2007!
Master Student
Department of Educational Administration
University of Hawai'i at Manoa, USA
1711 East-West Road, Honolulu, HI 96848-1711
Tel : (808) 944-6453
Email: bounsovicheth@yahoo.com
----------------------------------------------------------------------
"Teach this triple truth to all: A generous heart, kind speech, and
a life of service and compassion are the things which renew humanity."
--Buddha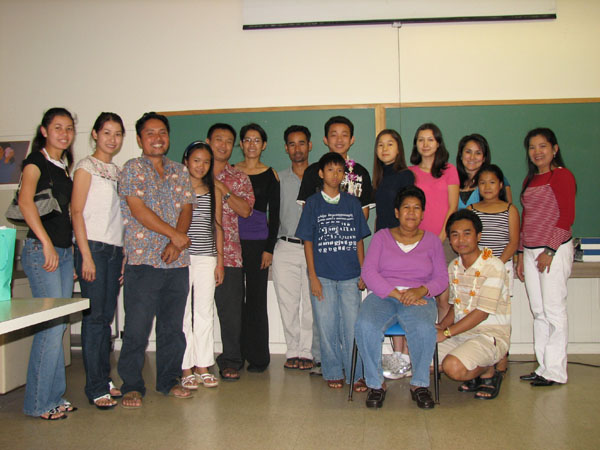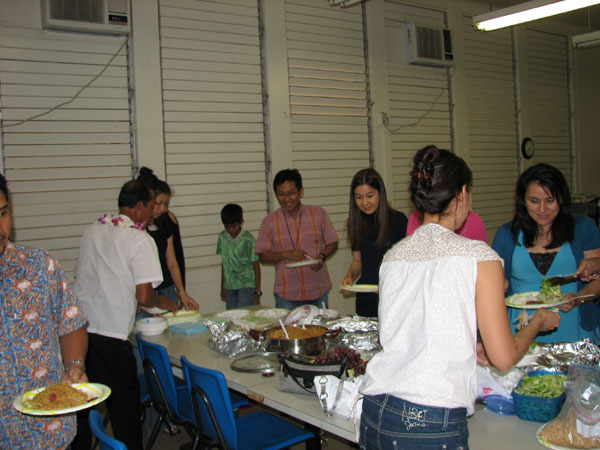 ==========================================
- Pictures of Cambodian students participated and helped the Cambodian Community of Hawaii in the occasion of Southeast Asian Floating Lantern Festival in Ala Mona Magic Island of Honolulu, Hawaii, Saturday 4, 2006. This festival signifies the importances of Cambodian culture such as paying gratitude and respect to the water (or the Water Day, in Cambodia other festivals also signify the Wind Day, Earth Day and Fire Day), commemorating the hero of Cambodian navy who defeated the enemies in the maritime battle field (Cambodian navy was talent to defeat the Champa invasion in 1117 in the Tonle Sap Lake), and providing entertainment fo the farmers to relax stresses from hard works during harvesting season (May - October).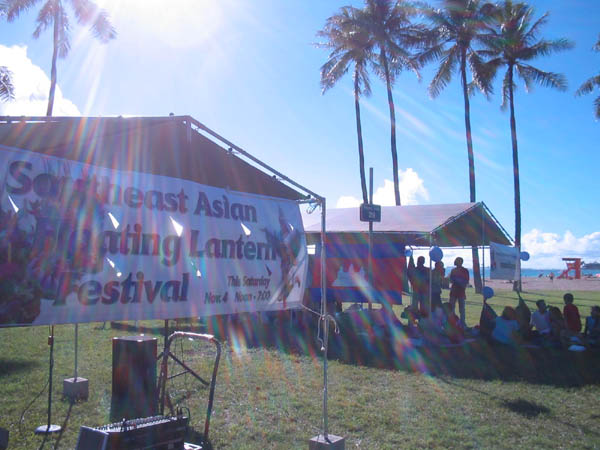 Cambodian flage in the island under the sun's ray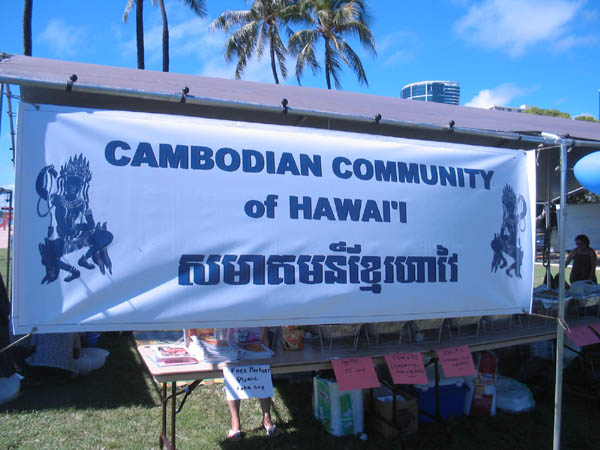 The protocol of Cambodian community and her spirit !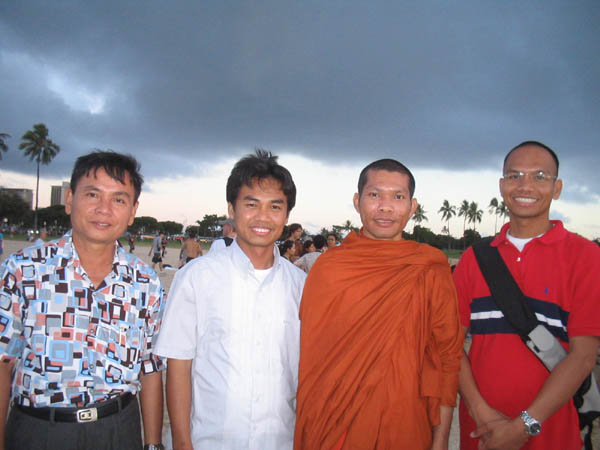 Sunset at the beach with the flashing of camara, the reflecting of impermanence


Cambodian flage with a dedication Cambodian-American for culture and community (Christine called Chantrea)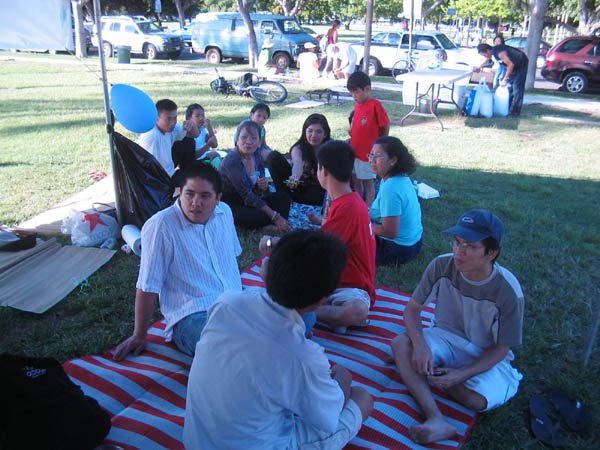 Socializing on the green grass, aspect of social networking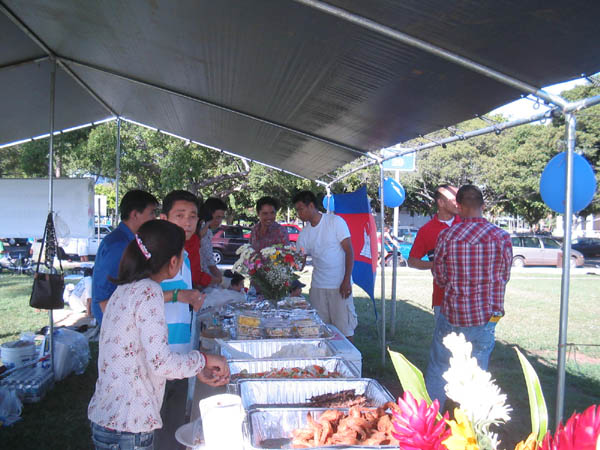 Delicate Cambodian food displayed on the table for all tasty-lovers ! (5$ per pack)
============================================
- In September 23, 2006: Cambodian Students of Hawaii University at Manoa participated Potluck Party with other students from around the world. We cooked Nom Banh-Chok Somlor Kary (Cambodian curry with noodle) and Bor-bor Sondaek Kiev (green bean dessert) to share with other national cultural foods. Our food was attractive and run out immediately.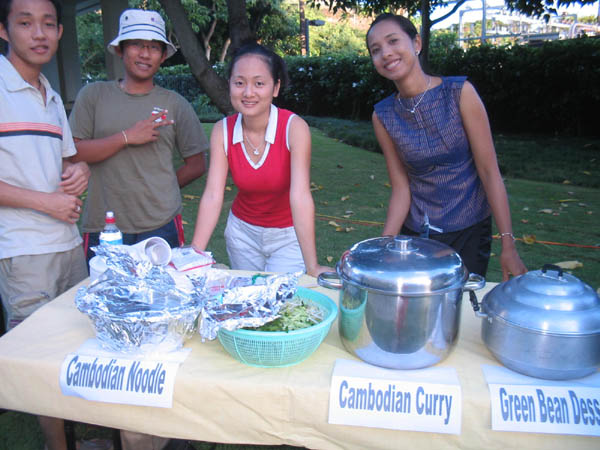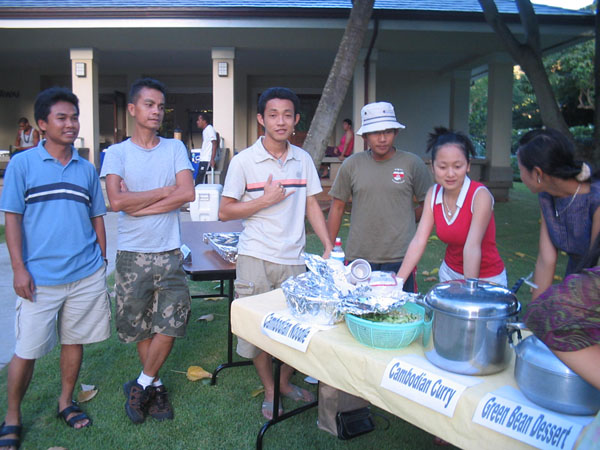 - Cambodian community members in State of Hawaii and students
---
WELCOME YOU TO ALOHA STATE
We, the Khmer families of Hawaii, would love see you.